Award-winning Rosalind's Larder launches Master Cookery Classes!
Award-winning Rosalind's Larder, ran by artisan chef Rosalind Waugh, has launched new Master Cookery classes which are set to start this month and will take place in Dundas Arcade, Middlesbrough.
From Baklava to Christmas jams, these classes will offer participants a great opportunity to get into baking or improve their knowledge learning from an artisan award-winning baker. Everything is provided for the class members, with them only needing to bring an apron and a bag to take home their baked goods!
As an artisan chef, Rosalind's produce has been winning awards for many years. This year she has received a 3-star Great Taste Award 2023 for her Fig Pear and Apple Jam, as well as two Great British Food Bronze 2023 Awards for her Seville Orange with Brandy Marmalade Fig Pear and Apple Jam!
To book your place on the cooking classes contact her, find more information here. Master Cookery Class gift vouchers are also available, find out more here.
Yorkshire Drinks Christmas Gift Guide
From tasty tipples to delicious flavours, our Yorkshire Mark Drink producers have got something for everyone this Christmas!
Whether you're on the hunt for the perfect gift for a cocktail/mocktail enthusiast or looking to introduce someone to the fantastic flavours of Yorkshire, our gift guide has you covered.
🍸 Yorkshire Dales Distillery – Dive into the festive spirit with their Merry Monday deals every week. Stock up your cupboard or find excellent stocking fillers in their incredible gin and rum range!
🎁 York Gin – Explore their shop for the ideal Christmas gifts, from personalised bottles to tasting collections, York Gin have got something for every gin lover!
🎄 Waterton's Reserve Gin & Isaac Poad – Find fantastic stocking fillers for adults with gin or rum gift sets.
☕ White Rose Coffee Roastery & Frazer's Coffee Roastery – Treat the caffeine lover in your life to all things coffee. Discover coffee subscriptions, gift sets and limited-edition roasts!
🔮 The Potions Cauldron – Get magical with these gift sets, create festive drinks, or spoil your loved ones with these enchanting concoctions!
🍹 Myth Drinks & Bax Botanics – Having trouble finding an alcohol-free alternative? Our Yorkshire Mark producers have a fantastic range of amazing flavours for you to try or gift this Christmas!
Christmas Events in Yorkshire 2023
If you're looking for something special to do this festive season, our Yorkshire Mark members have got it covered!
From festive parties and events to delicious menus, make lasting memories and indulge in great Yorkshire food this Christmas!
Lavang Sheffield – Discover their bespoke 5-course Christmas Day menu and experience an array of exotic and unique fusion of flavours. Or join them for their New Years Eve countdown party, featuring live music and an exclusive 4 course set menu! Book now.
The Private Diners Club – Elevate your Christmas party plans with their exquisite Christmas menu, where traditional holiday delights meet the rich taste of Indian cuisine. Enquire about their different party packages here.
Harrogate Brewing Co Christmas Party – Get your Christmas party hats on and join the festivities in Harrogate at Harrogate Brewing Co's taproom! Enjoy drinks, a Christmas Dinner and festive entertainment on Wednesday 20th December. Find out more .
Visit York – York Christmas Market 2023 – From 16th November to 22nd December, York is transformed into a winter wonderland, with more than 75 market traders offering an array of locally crafted goodies and artisan gifts. Try and spot some of our Yorkshire Mark family as you go around the market – including The Potions Cauldron, Isaac Poad Brewing, York Gin, Malton Brewery, Cryer & Stott Cheesemongers and Hemp Well!
Yorkshire Heart Vineyard & Brewery – Visit the vineyard for some festive cheer with their Christmas tasting sessions, running Sunday's in December. Drop by and savour a delightful journey through their range of wines, beers, and brandy.
Lighthouse Fisheries of Flamborough named among the UK's top 20 fish and chip shops
We are delighted that Yorkshire Mark producers, Lighthouse Fisheries of Flamborough, has officially been named among the UK's 20 best fish and chip shops and is now shortlisted for Takeaway of the Year in the Fish & Chip Awards!
After being shortlisted last year in the Best Newcomer 2023 category in the Fish & Chip Awards, Lighthouse Fisheries has been going from strength to strength.
This month, the business has also announced that it has been awarded the Good Food Awards Blue Ribbon 2023/2024, showcasing their culinary excellence, as well as being selected on Trip Advisors Travellers' Choice awards top 10%, based on reviews and ratings.
Find out more here.
Yorkshire Mark Gift Guide No1: Experiences
Gift experiences are perfect for those hard to buy for loved ones! Try something different this Christmas and treat your family and friends to the opportunity to make special memories with a unique gift experience.
From gourmet adventures to masterful mixology, this guide will offer you some of the best ideas for unforgettable gift experiences this Christmas!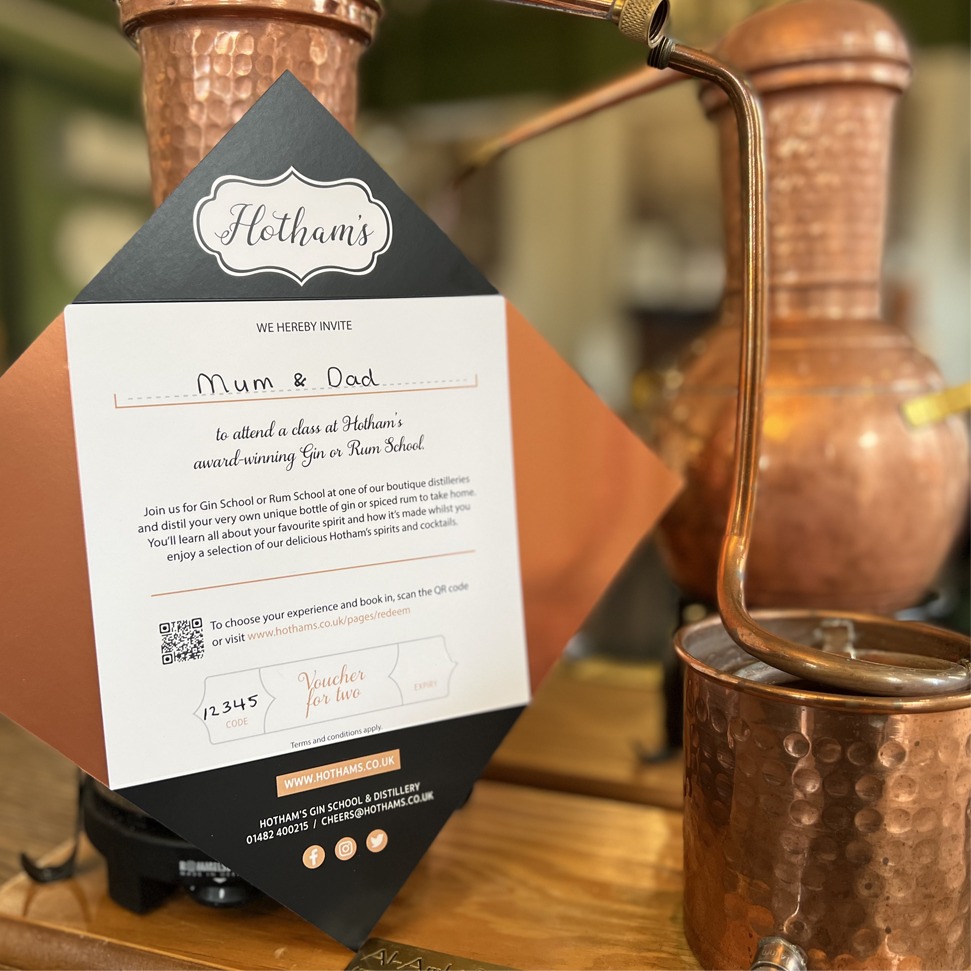 A week of awards celebrations for Cryer & Stott
Yorkshire Mark producer, Cryer & Stott Cheesemongers, are celebrating after a week of winning multiple awards!
Firstly, they started their winning streak with the news of achieving a World Cheese Award in Norway! They won a Silver World Cheese Awards for their natural rind Coverdale – which they started making in 2019 by working closely with a small artisan Yorkshire dairy. This came two weeks after Coverdale also gained a Great Taste Award Star along with their Bywater Butter which gained 2 Great Taste Stars.
The team also scooped the award for 'Yorkshire's Best Wholesaler' at the Taste Awards in Harrogate recognising all the work they do in supporting small producers across the region.
Two days later Richard Holmes, Managing Director, was in London at Buckingham Palace celebrating his MBE, presented by His Royal Highness the King, for Services to the British Food Industry. Richard said says ''I'm honoured to receive such an accolade & was speechless meeting the king.''
Over the festive period Cryer & Stott will be at various Christmas Fayres, including York St Nicks, Knaresborough & Hepworth Gallery.
Cooper King Distillery launches England's first net zero energy whisky… and it sold out in ten minutes!
Yorkshire Mark member, Cooper King Distillery, has produced the first whisky in England distilled using net zero energy. They kicked off their first ever whisky Expedition Series with First Edition – Fruit + Spice, and all bottles were sold within ten minutes of going on sale!
With just 589 bottles produced, this bottle reflects 'a journey of discovery through the finest casks in the warehouse' and benefits from hand-mashed, floor-malted heritage grains, which were copper pot distilled, matured and bottled at the distillery in Yorkshire.
The exceptional whisky is the result of six years of dedication to sustainability including carbon footprint reduction and is 27 years ahead of the UK Government's 2050 net-zero target.  Reinforcing the sustainability credentials of this exceptional single malt are its lightweight bottles made from 55% recycled glass, biodegradable cellulose tampers, innovative stopped derived from renewable sugar cane and labels printed of FSC certified paper.
The self-built, award-winning distillery are donating £5 from every bottle of the series to Yorkshire Dales Millennium Trust to fund life-changing apprenticeships for young people in rural areas, to help protect vital UK habitats. Cooper King aims to raise £17,250 for the trust in the next 12 months.
To discover more about Cooper King Distillery's products and Net Zero Report, you can visit their website here.
Sheffield-based Lavang achieve a Two-Star Food Made Good Sustainability Award from the Sustainable Restaurant Association!
Our amazing Yorkshire Mark member, Lavang, have received a Two-Star Food Made Good Sustainability Award from the Sustainable Restaurant Association (SRA), making them the only SRA graded restaurant in Sheffield!
In 2021, Lavang achieved Carbon Neutral status and are certified as an official CarbonNeutral® company, covering all their operations. This marked the culmination of many years of work to reduce their emissions and establish carbon offsetting projects that directly benefit people and communities within their supply chain.
Lavang have now achieved an impressive 69% in the Food Made Good Standard for their Sustainability Award. This is a massive achievement as most businesses don't often reach the two-star threshold upon their first submission. This award reflects the steps they have taken to tackle food waste and the great work they are doing across the business for people and the planet.
Scoring exceptionally high on the Society Pillar, Lavang have made a positive impact on their community through fundraising efforts and getting involved with local initiatives such as ShefFood, the Sheffield Health and Wellbeing Board, and working with apprenticeship programmes. The training also offered to staff around mental health, drink and drug abuse, and domestic abuse demonstrates a similar concern for treating their staff fairly!
A huge congratulations to the Lavang team! To find out more information about their sustainability awards, you can visit their website here.
Warrendale Wagyu launches Yorkshire-made gourmet sausages!
York based Warrendale Wagyu has revealed its latest product, gourmet Wagyu Sausages!
The new addition to its range will be launched in 200 Waitrose stores this week in what is thought to be the only Wagyu beef sausage in major supermarkets.
We are proud to share that this new product features the Yorkshire Mark on its packaging. The mark reflects the Warrendale Wagyu's Yorkshire roots and demonstrates the business's commitment to supply chain transparency, product quality and consistency.  Their cattle are processed at an industry-leading facility in Yorkshire, known for its high animal welfare standards, before being cut and processed at their small artisan butchery based just outside York.
The gourmet sausage introduces a beef sausage with the best taste and texture possible, available in Original and Horseradish. They are made of 90% and 86% premium British Wagyu Beef and are both gluten and dairy free.
They are launched just in time for comfort food season with the new Wagyu Sausages here to upgrade your autumn and winter meals!
Wagyu Sausages, Original and Horseradish, will be sold exclusively in Waitrose stores, Waitrose online and on their website – find out more here.
York Food Festival reaches its 26th anniversary bringing fun, food and local culture to the heart of York
York Food Festival has announced its forthcoming 26th anniversary, promising another iconic 10-day celebration of local food and drink, culture and community across the city centre.
The festival is due to take place between Friday 22nd September and Sunday 1st October, with over 100 market stalls and activities including chef demonstrations, free cookery workshops, live music, taste trails, and their brand new Cookie Tour across the 10 days.
Having grown from humble beginnings in 1997, York Food Festival is now hugely popular with locals and visitors alike and expects to attract over 400,000 people, as well as 1,200 school children with their educational Schools Program.
Building on York's history as a chocolate city and historic market, the festival's diverse programme has been designed to educate, inspire and bring people together to share in the city's vibrant culinary culture whilst showcasing the talent of local businesses and celebrating Yorkshire food and drink at its core.
Festival Director Michael Hjort captures the festival's ethos:
"We want to run an event that celebrates local talent and is run by and for the York community. The world is full of Food Festivals these days; what's different about York is that it's not a couple of guys off TV and a market brought in from anywhere."
This year we are delighted that the Yorkshire Mark will be hosting a substantial stand right outside at St Crux Hall, showcasing locally produced food and drink from a some of our wonderful independent Yorkshire makers in the Yorkshire Mark community.
Check out the full programme and book tickets here.
Hotham's Gin School win TripAdvisor Travellers' Choice award for 3rd year in a row
We're delighted that our fabulous member Hotham's Gin School have won a TripAdvisor Travellers' Choice award for top tourist attraction for the third year in a row!
This achievement celebrates businesses that consistently deliver fantastic experiences to travellers around the globe, having earned great visitor reviews on Tripadvisor over the last 12 months. As challenging as the past 2 years have been, Hotham's Gin School in Hull has continued to stand out with their unique gin-making experience.
Cofounder Emma Pownall said: "We're really thrilled to be celebrating receiving the TripAdvisor Travellers' Choice Award for the third year running – especially as we're also celebrating our five year anniversary. At this milestone, we've been reflecting on the past few years – the highs and the lows. That so many of our guests go to the trouble of leaving such glowing reviews for us is a testament to the hard work our team puts in to ensure that everyone leaves our Gin School with not just a delicious and unique gin, but some amazing new memories.
"We're going into our sixth year now with some exciting new events as well as our old favourites. To complement our award-winning Gin and Rum School experiences, we're about to launch the brand new Vodka School. Interest in flavoured vodka is growing rapidly right now, as spirit lovers experiment more with making cocktails at home. We received numerous requests from our guests to offer Vodka School, and if you've been to our GIn or Rum School, you can expect the same great mix of hands-on distilling, fun facts about your favourite spirit – and a few fabulous cocktails!"
John Boris from Tripadvisor said: "Congratulations to the 2023 Tripadvisor Travellers' Choice Best of the Best winners. The travel resurgence we've seen throughout the past year has even further heightened the competition. Ranking among the Best of the Best demonstrates you have provided exemplary experiences to those who matter most: your guests. With changing expectations, continued labour shortages, and rising costs, this is no easy feat, and I am continually impressed with the hospitality industry's resilience and ability to adapt. Cheers to another successful year!"
To see visitor reviews and the unique features  of Hotham's Gin School, visit: https://bit.ly/3jde3SD and learn more about them on our online directory.
Reflecting on Cryer & Stott's achievements on their 25th Anniversary
On their 25th Anniversary, we're delighted to be reflecting on the incredible journey of our fabulous Yorkshire Mark member, Cryer & Stott.
Since opening their first cheese retail shop in 1998, the business has gone from strength to strength, due to placing innovation and creativity at the heart of Cryer & Stott of what they do. Demonstrated in 1999, when Richard produced the world's very first rhubarb cheese – Ruby Gold – which went on to win numerous awards for innovation, flavour, and texture.
Fast forward to the noughties, Richard and Clare opened two Cryer & Stott retail shops in Castleford and Pontefract, alongside a wholesale business. Moving into 2010, Richard and Clare opened The Urban Food Hall in West Yorkshire village Allerton Bywater, and then supplied 12-tonnes of cheese to the London Olympics in 2012, giving Cryer & Stott their biggest order of cheese for one single event. Two new cheeses were produced for the London Olympics, Rhuby Crumble and Legacy.
As part of Tour-de-France celebrations, Richard and Jemma Ladwitch from Cryer & Stott toured France in a project named 'The Grand Fromage Depart'. The pair swapped Yorkshire cheese for French cheese with small artisan producers across the country. The British Embassy heard about the tour and the duo were invited to showcase a Yorkshire Cheese Stack in Paris at the British Embassy.
The Ambassador was so inspired by Cryer & Stott he asked them to return and create a special cheese for a state visit by Her Majesty Queen Elizabeth II, which was showcased to Her Majesty by Richard, Clare & Jemma & enjoyed by HRH on four separate occasions that week. The titled 'Duke of Wellington' cheese went on to win both Gold and Silver at The World Cheese Awards in 2016; and in 2017 the cheese was officially launched at The Houses of Parliament in London.
2018 was another great year, as HRH Princess Anne visited Samuel Valentine, The Urban Food Hall, after the lord lieutenant put Cryer & Stott forward for a royal visit to thank them for services to the Yorkshire food industry, leading to the team creating a cheese named Royal Thursday.  In the same year, Cryer & Stott were awarded with both a Gold and Silver at the World Cheese Awards in 2018 for their launch of their new cheese, Endeavour, and Richard also won another award in 2018, CEO of The Year.
A new vegetarian cheese called Ewe Beauty was launched in 2019, which won Supreme Champion at the Great Yorkshire Show. Another huge success for Richard, Clare and Cryer & Stott as this was their first vegetarian rennet pecorino style cheese. On the back of this, Richard climbed Mount Everest to raise money for the Cash for Kids project, a charity close to his heart. This is where he performed the World's Highest Cheese Tasting!
Fast forward through the pandemic, and Cryer & Stott now looks slightly different. The two retail cheesemongers are run by Richard's brother Stuart as franchise businesses, and Samuel Valentine is run by a French chef under licence.
Cryer & Stott have been at the scene of so many landmark British moments, from supplying 12-tonnes of cheese to the London Olympics in 2012 and being invited to Her Majesty the Queens Garden Party, but 2023 saw some extremely exciting news as Managing Director Richard was awarded MBE for Service to the British Food Industry. In the same year, Cryer & Scott won True Yorkshire Grit at the Azet's Yorkshire Food & Drink Business Awards and also had the privilege of producing a bespoke cheese for the Coronation of the king. This cheese is called King Charles III and is made with cheddar and black truffle – the kings favourite mushrooms!
A huge congratulations to Cryer & Stott on all your incredible achievements over the past 25 years and representing the Yorkshire food industry so well!
Showcasing our Yorkshire producers who specialise in Fair Trade Coffee
This World Fair Trade Day, we're shining a spotlight on our fantastic Coffee Roasters from across Yorkshire!
Offering fair deals to small-scale farmers is essential to keeping standards and expectations for the coffee production sector high and ensure that it is fair for everyone. The independent Coffee producers within the Yorkshire Mark family hold up the highest level of production, so let's shout about them!
First up, we have Halifax-based White Rose Coffee Roasters. Specialising in small batch roasting, they offer 22 coffee origins from all over the world. They have taken the time over the years to visit their supplier farms, travelling to Brazil to see the farming process first hand. Aside from this, they maintain close relationships with their farmers across the world, such as Ethiopia and Guatemala.
Next, we have Casa Espresso, independently-owned coffee roasters in Shipley. Their ethically sourced and award-winning specialty beans was founded in 2000, and they have since carefully selected farms and cooperatives that are focused on a better future for their workers and local communities. Each coffee variety from casa espresso comes with information on region information and background on the farmer.
Last but not least, we've got Sheffield-based Frazers Coffee Roasters! Since they began in 2014, Frazers have worked hard to supply local cafes, restaurants and offices across Sheffield with great tasting coffee. 'Direct Trade' Coffee is important to them, so they work directly with the farmers they source from and give them a better price for all the hard work they do. Staying connected by initiating coffee origin trips to meet farmers, learn about their agriculture and processing methods, Frazers guarantees fairtrade and sustainable practices.
We're proud to have them all in our Yorkshire Mark community.
Successful Evening at the Azets Yorkshire Food & Drink Business Awards
We were delighted to be the official Social Media Partner and sponsor of the 'Best New Food' Award at the recent Azets Yorkshire Food & Drink Business Awards!
The awards profile and celebrate the businesses and entrepreneurs of Yorkshire's food and drink heritage and it was a pleasure to support the Azets team in announcing and championing the award winners! Like most, the industry has faced many challenges over the last couple of years, so it was once again brilliant to have everyone together in one room to celebrate the successes of the hardworking businesses and individuals.
With nine awards given out on the evening, it was a pleasure to present the 'Best New Food' Award to NORTHERN BL°C for their innovative and delicious new plant based and allergen free soft serve ice cream – THE WHiP.
We were proud to see Yorkshire Mark members Cryer & Stott and owners of The Biskery, Saskia Roskam and Lisa Shepherd as the winners of the True Yorkshire Grit Award and The Personality of the Year Award, respectively.
The past few years have thrown challenges at Cryer & Stott, such as a global pandemic and current cancer diagnosis, but Managing Director Richard Holmes MBE has shown True Yorkshire Grit, so much so that he was awarded an MBE in the Kings first New Year's Honours List for services to the British Food Industry.
Since starting their business in 2016, Saskia and Lisa of The Biskery have always put family, compassion and inclusivity at the forefront of their vision, creating a unique business model that allows women to find purpose outside of the home whilst rediscovering their confidence and honing new skills.
The overall winner was Spirit of Yorkshire Distillery for the outstanding thought that goes into the production of each of their 100% homegrown field to bottle products.
Congratulations again to everyone who was nominated and everyone who took home the award in their category!
Yorkshire Mark Member Bax Botanics Celebrates Success at the San Francisco World Spirits Competition!
We are so pleased to announce that our member, Bax Botanics, swept the board at the 2023 San Francisco World Spirits Competition, flying the Yorkshire Mark flag high internationally!
Bax Botanics have always been passionate about great taste and authenticity, distilling their drinks from organic, fairtrade ingredients, and has seen continued growth in the popularity of their alcohol-free drinks, as well as becoming the benchmark of taste excellence in the sector.
The San Francisco World Spirits Competition is one of the most prestigious and largest spirits competition in the USA. 65 judges from around the world blind tasted over 5500 entries across all spirit categories, and they chose Bax Botanics to take home 3 double gold awards and a silver award! This is an incredible and well-deserved achievement, the Double Gold being the ultimate testament to excellence. This rare and impressive accolade is doubly impressive when you add to the fact that Bax Botanics is the first British Alcohol-Free Spirits brand to win such high medals at the SFWSC!
Rose Bax, Co-founder of Bax Botanics commented on the fantastic result:
"This great recognition across all our products is a milestone for British Alcohol-free drinks. Thanks to the effort and constant commitment of us all at Bax Botanics we are managing to raise the Alcohol-free category to its highest level".
Congratulations again to Bax Botanics, we are proud to have you as a Yorkshire Mark member and seeing a Yorkshire based brand achieving success globally".
Shop Bax Botanics on the Yorkshire Mark here.
Shop the full range of the award-winning Bax Botanics Alcohol Free Spirits and Drinks here.
Welcoming Shannon, our newest Yorkshire Mark Ambassador!
We are delighted to welcome Yorkshire food & lifestyle blogger, Shannon Palmer, as our newest Yorkshire Mark Ambassador.
Shannon is a Halifax-based food, lifestyle and theatre blogger, who takes pride in being a proper Yorkshire lass!
Having been crowned Yorkshire Food Blogger of The Year 2022, Shannon is on the rise in all things blogging, influencing and bringing her following of over 50k the best about food & drink and championing small businesses.
Alongside her passion for blogging, Shannon is kept busy writing for H&N Magazine, working full time in end-of-life dementia nursing and managing Westgate Arcade and Tickles Music Hall social media!
Shannon will be showcasing our brilliant network of Yorkshire food & drink businesses and helping to raise the profile of the Yorkshire Mark! Here's what Shannon had to say:
"I'm delighted to be involved with Yorkshire Mark, as a proper down to earth lass with a massive passion for food with a personality to match, I can't wait to shout and rave about all things food & drink in Yorkshire!"
Sustainability Top Tips from our Yorkshire Fam
Many people are becoming increasingly aware of how their actions affect the health of the planet, and are keen to adopt a more sustainable way of living by seeking products that are produced sustainably, from companies that have sustainable values at their core.
Inspired by The Climate Coalition #ShowTheLove campaign, this February we have been rolling out a 'Sustainability Showcase' of our incredible Yorkshire Mark members who are already leading the way in sustainable and ethical practice.
Take the time to learn how to live a little more sustainably by reading the roundup of our #yorkshirefam's sustainability Top Tips:
Using water in the kitchen to feed plants. Save the water from boiling veg and pasta from going down the drain. Once it's cooled it can be used to water plants inside the house (or outside), allowing plants to benefit from the nutrients in the food we cook (just remember, the water must be unsalted!).
Be mindful of the products you choose. Looking for a unique gift for a friend or just need to stock up on some everyday household items? Opting for zero-waste, plastic-free products, which you can find in online stores like McGowan Realm, can help our planet little by little.
Buy from local, independent businesses. Locally owned businesses make more local purchases, requiring less transportation and reducing food miles. Alongside boosting your local economy, supporting independent producers can help you eat more seasonally and supports more sustainable production methods than mass-production companies. Finding a fantastic choice of unique Yorkshire food, drink, hampers, gifts and experiences created across the region, couldn't be easier with our online directory. Check out the wonderful Yorkshire Mark community and start supporting businesses local to you.
Reuse & refill your empty bottles. Reusing your bottle reduces the number of bottles produced – which is great for the environment! Making the most of Refill Schemes like those York Gin and Cooper King Distillery have in place, is great for the planet and for your pocket!
Composting – did you know? As well as food waste, natural sponges, loofahs, along with other organic waste like wine corks, can all be composted at home – reducing your greenhouse emissions from sending these items to landfill and creating a compost full of variety in nutrient rich items.
Buy Yorkshire Pasta… You'll never guess which Yorkshire Mark producer offered this top tip! Made using solar energy, British Flour from farms an average of 24.5miles from their local mill and packaged in 100% plastic free and recyclable paper bags, Yorkshire Pasta is a tastier, more sustainable choice to your mass-produced supermarket alternative!
Ask questions. To ensure your money is spent well, don't be afraid to ask questions to help get beyond any potential green washing. Businesses with a genuine green ethos will only be too happy to discuss their initiatives, their achievements, and the areas they still need to improve.
Sustainable swaps. Rather than using one-use plastic or paper straws, keeping a metal straw in your bag wherever you go will help to reduce your waste every time you eat and drink out! Use toilet paper made from recycled paper, swap to a green energy provider…once you start down the path of trying to live more sustainably, you begin to question everything. Then the fun begins!
Learn more the Yorkshire Mark members we showcased throughout the month:
SeaGrown: SeaGrown are pioneering the growth of sustainable, carbon-rich Yorkshire seaweed, which not only make for nutritious food seasonings, but absorbs tons of carbon from the atmosphere and releases oxygen into the surrounding water, creating new habitats allowing marine life to flourish.
York Gin: Fuelled by their ambition to be a 'Net Positive' business, York Gin are powered by 100% green energy and through their partnership with Forge Recycling, are committed to zero-waste production. With their shop refill station, water saving system and use of plastic-free bottles & packaging made sustainably in Yorkshire, York Gin are dedicated in their mission to be sustainable, responsible and efficient.
McGowan Realm: With a passion to support their local community, reduce unnecessary waste and see less impact on our environment, McGowan Realm stock fantastic quality products from a selection of small, local businesses with rich heritage, in their zero-waste online shop. Founded by keen conservationist John, 5p from every product sale goes to wildlife conservation, reducing plastic use at the same time.
Cooper King Distillery: Producer of England's first carbon-negative gin, Cooper King's use of 100% renewable energy, plastic-free postage, recycled glass 'bottles for life' & refill scheme, and dedication to planting 1sqm of Yorkshire Woodland for every bottle sold, places them as true pioneers in sustainable spirit production.
Yorkshire Pasta Company: Using only the best quality locally milled wheat flour and water, Yorkshire Pasta utilise traditional, plastic-free methods of production and 100% recyclable paper packaging to sustainably produce their authentic, premium pasta right here in Yorkshire.
Yorkshire Salt Maiden: Starting from principles of sustainable sourcing and low impact, the Yorkshire Salt Maiden hand-harvest local sea water, use natural sunlight to form pure salt crystals and package into plastic-free, eco-friendly packaging.
Introducing our new Yorkshire Mark Ambassador – Ben Thorpe
We're excited to announce that acclaimed blogger and food critic, Ben Thorpe, owner of York on a Fork, is joining our growing family as a Yorkshire Mark Ambassador.
After working in financial services for several years, Ben made the decision to turn his passion for the York restaurant scene into a blog, 'York on a Fork' focusing on the thriving food and drink outlets in York and the surrounding area, and it is now one of York's most trusted sources of information for high quality food and drink content. As a renowned critic, Ben has been invited to experience hundreds of restaurant and dining experiences across Yorkshire, promoting and championing the best of the best. Working with a strong network of food industry contacts, Ben also offers consultancy to local businesses, helping them understand what it means to open and sustain a successful food business and how to find their voice and stand out in a crowded sector.
Ben is a regular on the food award and festival circuit, working with the Guild of Fine Food, Azets, the official York Tourist Guide and York Food & Drink Festival, helping the broad range of food & drink businesses in the region.
Ben will be helping us to champion the Yorkshire Mark brand and all our brilliant members across Yorkshire. We're absolutely delighted to welcome him to our community. Here's what Ben had to say:
"I'm delighted to be joining the Yorkshire Mark community and support an enterprise that clearly shares my values around supporting businesses in the region. I'm looking forward to being mutually supportive and championing the best the region has, together."
Managing Director of Cryer & Stott awarded MBE for Service to the British Food Industry
We are proud to share the news that Richard Holmes Managing Director of Cryer & Stott Cheesemongers, our fabulous Yorkshire Mark producer and supplier to leading restaurants, sporting stadiums, hotels & gastro pubs across the UK, has been awarded an MBE for his services to the British food industry.
Richard's passion to work with small artisan producers to bring exciting and unique products to businesses as well as building a product range focusing on innovating traditions has gained him this prestigious award.
Richard shares "I'm so proud & humbled to be given an MBE in King Charles's first ever New Year's Honours List. I would like to thank my wife Clare & children Samuel & Valentine for supporting me. The honour is an accolade for all the Cryer & Stott family who have worked by my side to make Cryer & Stott the success it is today."
The honour comes as the family-run business celebrates it's 25th year in business, a huge milestone after what has been a testing few years.
Achievements at a glance:
• Creating and growing one of the most successful cheesemongers/producers of fine foods in the UK, successfully building the company from scratch into a multi-million-pound concern.
• An innovator and pioneer, Richard has created several products that are completely unique, such as 'Duke of Wellington' blue cheese and 'Ruby Gold', winning international awards for his work and putting Yorkshire on the map as a food centre of excellence.
• Championing small, local producers and working closely with them to successfully drive their products to market.
• Representing Yorkshire and the UK on the international stage, serving his unique products to royalty, ambassadors, and foreign dignitaries.
• Building – and maintaining – an impressive list of first-rate clients, from restaurant chains to Michelin-star restaurants, to the London 2012 Olympics.
• An inspiring and well-respected leader, Richard has provided meaningful employment for 25 local individuals – training, mentoring, and nurturing their skills.
• Maintaining strong links with the local community and raising money for various charitable initiatives in the Yorkshire area.
We are delighted for Richard and the Cryer & Stott team!
Cooper King Distillery celebrates tree planting milestone
Our fantastic Yorkshire Mark producer Cooper King Distillery is celebrating an exciting milestone in its support of environmental charity Yorkshire Dales Millennium Trust (YDMT). As the partnership reaches its fourth year, the sustainable distillery has supported the planting of more than 2,000 native UK trees – over 20,000 square metres (enough to create nearly three football pitches of new woodland!).
Since August 2018, Cooper King Distillery have pledged to donate at least 1% of their gin sales towards YDMT's tree planting work, with over £20,000 donated to date. They were also the first distillery in Europe to join the environmental initiative '1% for the Planet', the first in the UK to offer a gin refill scheme, and the first in the country to produce carbon-negative gin. All the wheat and barley for their spirits is sourced from Yorkshire farms.
Sarah Hodgson, Development Manager at YDMT said: "We're really grateful to be partnering with Abbie, Chris and the Cooper King team, and are appreciative of what they have done for woodland creation across the Dales.
"Planting trees is vitally important not only to mitigate the impacts of climate change but also to create habitat for some of our most vulnerable wildlife. Cooper King's support will also enable us to work with local communities to plant even more trees, employ two woodland trainees and establish community tree growing nurseries."
Each bottle of Cooper King's international award-winning Dry or Herb Gin sold contributes to the creation of one square metre of woodland in the Yorkshire Dales and surrounding areas.
Chris added: "Producing flavour-driven sustainable spirits is at the heart of what we do, because we believe drinking good spirits needn't cost the earth. Partnering with YDMT has been a wholesome and rewarding process, ensuring this vision becomes a reality."
"A huge thanks is owed to not only YDMT, but to our customers who continue to support our mission, helping to conserve and protect the environment. We're looking forward to heading out to the Dales in January to get more trees planted!"
We are so proud to have Cooper King Distillery in our Yorkshire Mark Family!
Online coverage for The Yorkshire Mark and Uniquely Local's #shopyorkshire campaign
It's fantastic to be collaborating with Uniquely Local encouraging people to #shopyorkshire this Christmas and support small businesses.
We are delighted that our wonderful campaign has led to some great national online press coverage in Bdaily, featuring Uniquely Local owner, Rachel Marshall, and our very own Brand Manager at The Yorkshire Mark, Georgie Harmer.
The article shares what the #shopyorkshire social media campaign is all about and encourages people to join in and support local Yorkshire businesses this Christmas.
You can read the full article from Bdaily here.
Find out more about Uniquely Local and browse their full range of gift experiences here.
White Rose Coffee Roasters welcomes new stockist TEST BAR!
We're delighted for our Yorkshire Mark producer White Rose Coffee Roasters who have welcomed TEST BAR as a new stockist of their award-winning coffee!
The cocktail bar and adjoining distillery, by the award-winning John Roberts Botanic Request, opened its doors to the people of Farsley and beyond on 5th November at the iconic Yorkshire mill complex, Sunny Bank Mills.
TEST BAR serves the popular Cattle Market blend, White Rose Coffee Roasters signature espresso blend. This blend has a heady mix of Brazilian and Honduras Arabicas, roasted dark to Second crack to give a punchy espresso that will cut through milk drinks.
Co-founders of TEST BAR, Ben and Emelie, shared why they selected the Cattle Market blend, stating that it's the right roast for their signature espresso martini, and lends itself well to the botanicals within their gin. Chosen for its chocolatey, nutty profile, Ben and Emelie also mull a coffee liqueur using the blend.
Find out more about White Rose Coffee Roasters here.
The Yorkshire Mark joins forces with Uniquely Local to encourage people to #shopyorkshire
We are delighted to be collaborating with Uniquely Local to encourage people to #shopyorkshire in the run up to Christmas this year!
Our joint social media campaign will build on the '30 experiences under £30' launched by Uniquely Local in October and looks to promote the huge variety of value for money Christmas gift options available and offer a range of ideas to suit all budgets.
Georgie Harmer, Brand Manager of the Yorkshire Mark said: "With consumers being more conscious than ever of finding great value, high quality food and drink, whether for themselves or as gifts for family and friends, the variety of locally produced options we have across the Yorkshire Mark and Uniquely Local networks is fantastic. We're absolutely delighted to be collaborating with Uniquely Local to help spread the word about the rich source of wonderful food and drink businesses we have on our doorstep, all of whom take immense pride in being from Yorkshire. You really don't have to go far to enjoy the best tastes at great prices."
Founded by friends Rachel and Ema, both full-time mums living in North Yorkshire with young families, the idea for Uniquely Local came from their own desire to find interesting, memorable experience gifts that they'd love to receive, whilst promoting the provenance of the region and supporting all the fantastic independent businesses based in Yorkshire.
Rachel Marshall, Owner of Uniquely Local said: "We have developed close friendships with all our experience providers over the years and more than ever want to encourage our customers to support these local artists, producers and manufacturers so we don't lose them in what is set to be a challenging time ahead. Food and Drink is our most popular gifting category and we are delighted to be collaborating with Yorkshire Mark to help discover and champion the next generation of food and drink entrepreneurs."
If you are looking for inspiration and want to support local Yorkshire businesses this Christmas, make sure to follow the campaign on The Yorkshire Mark and Uniquely Local social media channels using the hashtag #shopYorkshire.
For more information and to see their full range of gift experiences available visit: https://uniquelylocal.co.uk/
The Yorkshire Mark sponsors Best New Food Product category in Azets Yorkshire Food & Drink Business Awards 2023
Azets have launched their Yorkshire Food & Drink Business Awards 2023 and The Yorkshire Mark is thrilled to be sponsoring the Best New Food Product category!
The Awards aim to celebrate those businesses that have continued to excel and shown resilience, adapting to the difficult economic conditions created by the pandemic, looming recession and uncertainty of recent months. As a high profile and widely promoted event, the Awards provide a platform to showcase and celebrate achievements, creating visibility and valuable publicity for those businesses involved.
The awards are open to all businesses from start-ups to established companies, small and large, across all sectors of Yorkshire food and drink. The entry process is simple – businesses provide a 300 word (max) entry demonstrating their key achievements and reasons why they should win their chosen category along with any additional supporting documents before the deadline.
Tony Farmer, Head   of   Corporate   Finance   at   Azets   in   Yorkshire   explains: "I am delighted to announce the launch of our Azets in Yorkshire Food & Drinks Business awards which is now in its fifth year. The awards have proved to be a great success and this year's awards will be our best yet.  Our awards celebrate the creativity and grit of the people and businesses of Yorkshire that are striving to help our economy to grow and prosper. We're here to showcase the county's successful businesses and show other UK businesses that positive outcomes can be realised even in the most challenging economic conditions."
Susan Kay, Partnerships Director, The Yorkshire Mark, commented: "These awards are the perfect place to turn the spotlight on the amazing producers we have in Yorkshire and we're excited to be continuing to work with Azets by sponsoring the Best New Food Product category.  We encourage all local food producers who have launched a new product recently to enter, and tell us how you developed it, how you created your branding, how you've launched it and how it's been received by consumers.  We can't wait to see the entries and be part of this celebration of Yorkshire food and drink!"
The award categories are:
Personality of the year
Rising Star
Best Hospitality
Producer of the year
Retailer of the year
Manufacturer of the year
Best new food product
Best new drink product
True Yorkshire Grit
Overall Winner
The deadline for entries is 27 February 2023. A shortlist will be announced in mid-March on the Azets website and through social media accounts. Winners will be announced at an awards event on 27 April at York Racecourse.
How to enter
For further information on the Azets in Yorkshire Food & Drink Business Awards and to enter your business now visit https://discover.azets.co.uk/azets-food-and-drink-awards-2023 or email yorks.awards@azets.co.uk