Yorkshire Drinks Christmas Gift Guide
From tasty tipples to delicious flavours, our Yorkshire Mark Drink producers have got something for everyone this Christmas!
Whether you're on the hunt for the perfect gift for a cocktail/mocktail enthusiast or looking to introduce someone to the fantastic flavours of Yorkshire, our gift guide has you covered.
🍸 Yorkshire Dales Distillery – Dive into the festive spirit with their Merry Monday deals every week. Stock up your cupboard or find excellent stocking fillers in their incredible gin and rum range!
🎁 York Gin – Explore their shop for the ideal Christmas gifts, from personalised bottles to tasting collections, York Gin have got something for every gin lover!
🎄 Waterton's Reserve Gin & Isaac Poad – Find fantastic stocking fillers for adults with gin or rum gift sets.
☕ White Rose Coffee Roastery & Frazer's Coffee Roastery – Treat the caffeine lover in your life to all things coffee. Discover coffee subscriptions, gift sets and limited-edition roasts!
🔮 The Potions Cauldron – Get magical with these gift sets, create festive drinks, or spoil your loved ones with these enchanting concoctions!
🍹 Myth Drinks & Bax Botanics – Having trouble finding an alcohol-free alternative? Our Yorkshire Mark producers have a fantastic range of amazing flavours for you to try or gift this Christmas!
Yorkshire Mark Gift Guide No1: Experiences
Gift experiences are perfect for those hard to buy for loved ones! Try something different this Christmas and treat your family and friends to the opportunity to make special memories with a unique gift experience.
From gourmet adventures to masterful mixology, this guide will offer you some of the best ideas for unforgettable gift experiences this Christmas!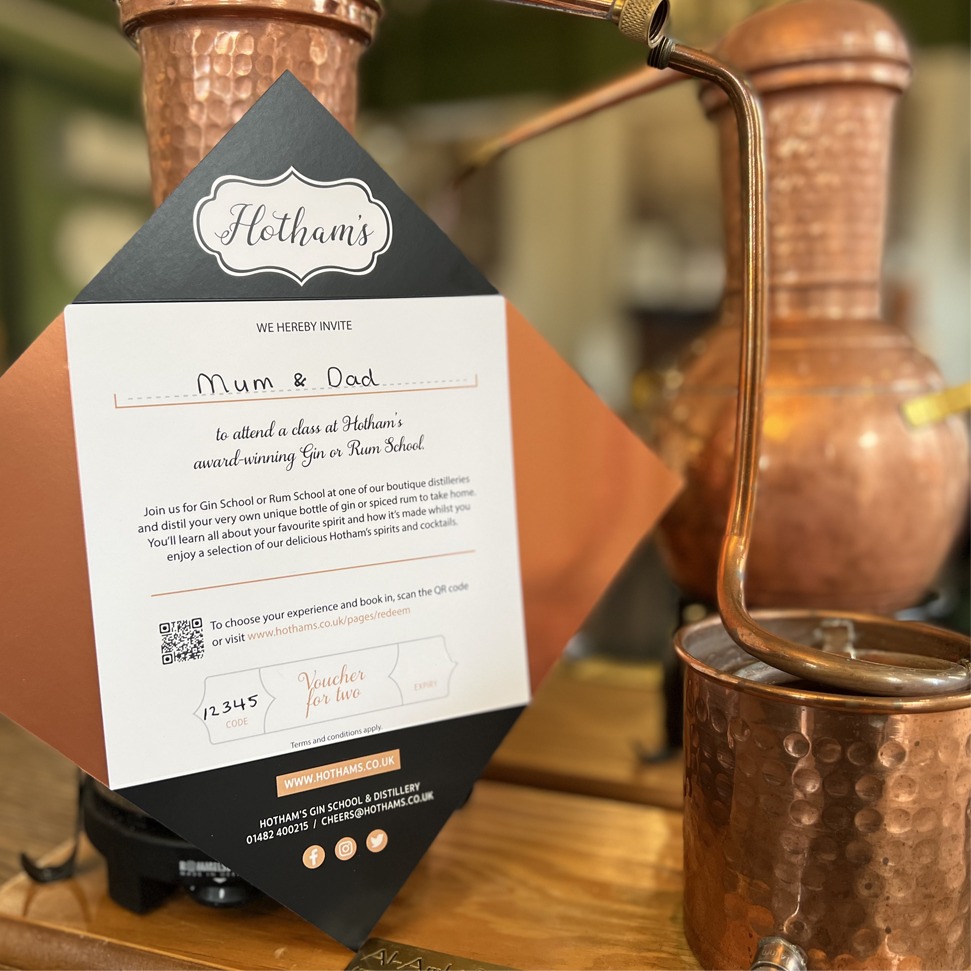 York Food Festival reaches its 26th anniversary bringing fun, food and local culture to the heart of York
York Food Festival has announced its forthcoming 26th anniversary, promising another iconic 10-day celebration of local food and drink, culture and community across the city centre.
The festival is due to take place between Friday 22nd September and Sunday 1st October, with over 100 market stalls and activities including chef demonstrations, free cookery workshops, live music, taste trails, and their brand new Cookie Tour across the 10 days.
Having grown from humble beginnings in 1997, York Food Festival is now hugely popular with locals and visitors alike and expects to attract over 400,000 people, as well as 1,200 school children with their educational Schools Program.
Building on York's history as a chocolate city and historic market, the festival's diverse programme has been designed to educate, inspire and bring people together to share in the city's vibrant culinary culture whilst showcasing the talent of local businesses and celebrating Yorkshire food and drink at its core.
Festival Director Michael Hjort captures the festival's ethos:
"We want to run an event that celebrates local talent and is run by and for the York community. The world is full of Food Festivals these days; what's different about York is that it's not a couple of guys off TV and a market brought in from anywhere."
This year we are delighted that the Yorkshire Mark will be hosting a substantial stand right outside at St Crux Hall, showcasing locally produced food and drink from a some of our wonderful independent Yorkshire makers in the Yorkshire Mark community.
Check out the full programme and book tickets here.
Successful Evening at the Azets Yorkshire Food & Drink Business Awards
We were delighted to be the official Social Media Partner and sponsor of the 'Best New Food' Award at the recent Azets Yorkshire Food & Drink Business Awards!
The awards profile and celebrate the businesses and entrepreneurs of Yorkshire's food and drink heritage and it was a pleasure to support the Azets team in announcing and championing the award winners! Like most, the industry has faced many challenges over the last couple of years, so it was once again brilliant to have everyone together in one room to celebrate the successes of the hardworking businesses and individuals.
With nine awards given out on the evening, it was a pleasure to present the 'Best New Food' Award to NORTHERN BL°C for their innovative and delicious new plant based and allergen free soft serve ice cream – THE WHiP.
We were proud to see Yorkshire Mark members Cryer & Stott and owners of The Biskery, Saskia Roskam and Lisa Shepherd as the winners of the True Yorkshire Grit Award and The Personality of the Year Award, respectively.
The past few years have thrown challenges at Cryer & Stott, such as a global pandemic and current cancer diagnosis, but Managing Director Richard Holmes MBE has shown True Yorkshire Grit, so much so that he was awarded an MBE in the Kings first New Year's Honours List for services to the British Food Industry.
Since starting their business in 2016, Saskia and Lisa of The Biskery have always put family, compassion and inclusivity at the forefront of their vision, creating a unique business model that allows women to find purpose outside of the home whilst rediscovering their confidence and honing new skills.
The overall winner was Spirit of Yorkshire Distillery for the outstanding thought that goes into the production of each of their 100% homegrown field to bottle products.
Congratulations again to everyone who was nominated and everyone who took home the award in their category!
Welcoming Shannon, our newest Yorkshire Mark Ambassador!
We are delighted to welcome Yorkshire food & lifestyle blogger, Shannon Palmer, as our newest Yorkshire Mark Ambassador.
Shannon is a Halifax-based food, lifestyle and theatre blogger, who takes pride in being a proper Yorkshire lass!
Having been crowned Yorkshire Food Blogger of The Year 2022, Shannon is on the rise in all things blogging, influencing and bringing her following of over 50k the best about food & drink and championing small businesses.
Alongside her passion for blogging, Shannon is kept busy writing for H&N Magazine, working full time in end-of-life dementia nursing and managing Westgate Arcade and Tickles Music Hall social media!
Shannon will be showcasing our brilliant network of Yorkshire food & drink businesses and helping to raise the profile of the Yorkshire Mark! Here's what Shannon had to say:
"I'm delighted to be involved with Yorkshire Mark, as a proper down to earth lass with a massive passion for food with a personality to match, I can't wait to shout and rave about all things food & drink in Yorkshire!"
Introducing our new Yorkshire Mark Ambassador – Ben Thorpe
We're excited to announce that acclaimed blogger and food critic, Ben Thorpe, owner of York on a Fork, is joining our growing family as a Yorkshire Mark Ambassador.
After working in financial services for several years, Ben made the decision to turn his passion for the York restaurant scene into a blog, 'York on a Fork' focusing on the thriving food and drink outlets in York and the surrounding area, and it is now one of York's most trusted sources of information for high quality food and drink content. As a renowned critic, Ben has been invited to experience hundreds of restaurant and dining experiences across Yorkshire, promoting and championing the best of the best. Working with a strong network of food industry contacts, Ben also offers consultancy to local businesses, helping them understand what it means to open and sustain a successful food business and how to find their voice and stand out in a crowded sector.
Ben is a regular on the food award and festival circuit, working with the Guild of Fine Food, Azets, the official York Tourist Guide and York Food & Drink Festival, helping the broad range of food & drink businesses in the region.
Ben will be helping us to champion the Yorkshire Mark brand and all our brilliant members across Yorkshire. We're absolutely delighted to welcome him to our community. Here's what Ben had to say:
"I'm delighted to be joining the Yorkshire Mark community and support an enterprise that clearly shares my values around supporting businesses in the region. I'm looking forward to being mutually supportive and championing the best the region has, together."
Online coverage for The Yorkshire Mark and Uniquely Local's #shopyorkshire campaign
It's fantastic to be collaborating with Uniquely Local encouraging people to #shopyorkshire this Christmas and support small businesses.
We are delighted that our wonderful campaign has led to some great national online press coverage in Bdaily, featuring Uniquely Local owner, Rachel Marshall, and our very own Brand Manager at The Yorkshire Mark, Georgie Harmer.
The article shares what the #shopyorkshire social media campaign is all about and encourages people to join in and support local Yorkshire businesses this Christmas.
You can read the full article from Bdaily here.
Find out more about Uniquely Local and browse their full range of gift experiences here.
The Yorkshire Mark joins forces with Uniquely Local to encourage people to #shopyorkshire
We are delighted to be collaborating with Uniquely Local to encourage people to #shopyorkshire in the run up to Christmas this year!
Our joint social media campaign will build on the '30 experiences under £30' launched by Uniquely Local in October and looks to promote the huge variety of value for money Christmas gift options available and offer a range of ideas to suit all budgets.
Georgie Harmer, Brand Manager of the Yorkshire Mark said: "With consumers being more conscious than ever of finding great value, high quality food and drink, whether for themselves or as gifts for family and friends, the variety of locally produced options we have across the Yorkshire Mark and Uniquely Local networks is fantastic. We're absolutely delighted to be collaborating with Uniquely Local to help spread the word about the rich source of wonderful food and drink businesses we have on our doorstep, all of whom take immense pride in being from Yorkshire. You really don't have to go far to enjoy the best tastes at great prices."
Founded by friends Rachel and Ema, both full-time mums living in North Yorkshire with young families, the idea for Uniquely Local came from their own desire to find interesting, memorable experience gifts that they'd love to receive, whilst promoting the provenance of the region and supporting all the fantastic independent businesses based in Yorkshire.
Rachel Marshall, Owner of Uniquely Local said: "We have developed close friendships with all our experience providers over the years and more than ever want to encourage our customers to support these local artists, producers and manufacturers so we don't lose them in what is set to be a challenging time ahead. Food and Drink is our most popular gifting category and we are delighted to be collaborating with Yorkshire Mark to help discover and champion the next generation of food and drink entrepreneurs."
If you are looking for inspiration and want to support local Yorkshire businesses this Christmas, make sure to follow the campaign on The Yorkshire Mark and Uniquely Local social media channels using the hashtag #shopYorkshire.
For more information and to see their full range of gift experiences available visit: https://uniquelylocal.co.uk/
The Yorkshire Mark sponsors Best New Food Product category in Azets Yorkshire Food & Drink Business Awards 2023
Azets have launched their Yorkshire Food & Drink Business Awards 2023 and The Yorkshire Mark is thrilled to be sponsoring the Best New Food Product category!
The Awards aim to celebrate those businesses that have continued to excel and shown resilience, adapting to the difficult economic conditions created by the pandemic, looming recession and uncertainty of recent months. As a high profile and widely promoted event, the Awards provide a platform to showcase and celebrate achievements, creating visibility and valuable publicity for those businesses involved.
The awards are open to all businesses from start-ups to established companies, small and large, across all sectors of Yorkshire food and drink. The entry process is simple – businesses provide a 300 word (max) entry demonstrating their key achievements and reasons why they should win their chosen category along with any additional supporting documents before the deadline.
Tony Farmer, Head   of   Corporate   Finance   at   Azets   in   Yorkshire   explains: "I am delighted to announce the launch of our Azets in Yorkshire Food & Drinks Business awards which is now in its fifth year. The awards have proved to be a great success and this year's awards will be our best yet.  Our awards celebrate the creativity and grit of the people and businesses of Yorkshire that are striving to help our economy to grow and prosper. We're here to showcase the county's successful businesses and show other UK businesses that positive outcomes can be realised even in the most challenging economic conditions."
Susan Kay, Partnerships Director, The Yorkshire Mark, commented: "These awards are the perfect place to turn the spotlight on the amazing producers we have in Yorkshire and we're excited to be continuing to work with Azets by sponsoring the Best New Food Product category.  We encourage all local food producers who have launched a new product recently to enter, and tell us how you developed it, how you created your branding, how you've launched it and how it's been received by consumers.  We can't wait to see the entries and be part of this celebration of Yorkshire food and drink!"
The award categories are:
Personality of the year
Rising Star
Best Hospitality
Producer of the year
Retailer of the year
Manufacturer of the year
Best new food product
Best new drink product
True Yorkshire Grit
Overall Winner
The deadline for entries is 27 February 2023. A shortlist will be announced in mid-March on the Azets website and through social media accounts. Winners will be announced at an awards event on 27 April at York Racecourse.
How to enter
For further information on the Azets in Yorkshire Food & Drink Business Awards and to enter your business now visit https://discover.azets.co.uk/azets-food-and-drink-awards-2023 or email yorks.awards@azets.co.uk
The Yorkshire Pasta Company celebrates success at The Yorkshire and Humberside Family Business Awards
We are delighted that our wonderful #yorkshirefam producer, The Yorkshire Pasta Company have been announced as the winner of the Emerging Family Business category at The Yorkshire and Humberside Family Business Awards!
Dave Clarkson, Awards Co-Founder commented, "As this was the very first of our Family Business Awards to be held in Yorkshire and Humberside, we wanted it to be a really special occasion and we're delighted with how it came together on the night. There is a huge wealth of talent, entrepreneurialism and passion that exists here, and the awards will help to profile and champion that."
Showing the UK the difference between mass manufactured supermarket 'pasta' and beautiful, sustainable, artisan pasta, The Yorkshire Pasta Company combines traditional techniques with locally milled wheat flour and striking sustainable paper packaging to create their award winning premium British pasta. A sustainable approach to a classic product, Yorkshire Pasta HQ is run on solar energy, is plastic free and all their products are vegan and vegetarian friendly.
Kathryn Bumby, the founder of The Yorkshire Pasta Company shared: "To be recognised for this award is overwhelming, we are a small family business, a team of three, we love creating our artisan pasta here in Malton and the knowledge that families up and down the UK are sitting round dinner tables enjoying our pasta together gives me such a special feeling. The last two years really have been a whirlwind for us and our British pasta – This is another very proud moment for us!"
The Yorkshire Pasta Company have made their mark across Yorkshire and the wider UK, now supplying over 450 farm shops, delis and restaurants across the country, and have featured on James Martin's Saturday Morning ITV show, Davina McCall's podcast and in The Sunday Times. Yorkshire Pasta is even stocked in Harvey Nichols, Selfridges and has recently hit the shelves at Harrods!
For more information about the awards and the full list of 2022 winners, click here. (www.yorkshireandhumbersidefamilybusinessawards.co.uk)
Browse The Yorkshire Pasta Company's full range and get inspired by the delicious recipes they share on their website here. (https://www.yorkshirepasta.co.uk/)
Introducing our new Brand Ambassador – Ellie Knowles!
We're delighted to welcome our new Brand Ambassador, Ellie Knowles, who is working with the Tommy Banks Group, which includes both Michelin starred Roots restaurant in York and the Black Swan at Oldstead. She will be helping us to champion Yorkshire Mark and all our fantastic members. Here's what Ellie had to say:
"Hi, my name is Ellie and I am an experienced hospitality professional who's been working in the industry for over nine years. I have worked in wonderful hotels in Yorkshire and one year over in New Zealand. I'm passionate about wine and absolutely love to travel and experience different foods and cultures, but I'm immensely proud of what we have at home in Yorkshire too. I'm very excited to be joining the Yorkshire Mark as an ambassador, to help champion all the incredible products and experiences we have right on our doorstep."
Welcome to the Yorkshire Fam Ellie!
Introducing McGowan Realm
We are excited to welcome McGowan Realm, an eco-friendly online store based in Teesside, Middlesbrough into our Yorkshire Mark family!
They are a small family-run business who are provide a range of sustainable everyday products & gifts for the conscious shoppers who want to start or grow their plastic free & zero waste efforts, including products from fellow Yorkshire producers.
With a love of nature and the desire to protect the world around them, at the heart of their ethos is the message that with being more in touch with the natural world is crucial and even the smallest changes can help our planet.
To browse their extensive range of eco-friendly products and gifts, visit their website here.